Starting point: Machico (or it can be the ending point)
End: Porto da Cruz (it can be the starting point)
Difficulty: Moderate
Suitable: fit adults
Not suitable: children, people with acrophobia
"There are no accidents"

– Kung-Fu Panda
Why Vereda do Larano and Boca do Risco Trail?
I have chosen Vereda do Larano and Boca do Risco trail accidentally. I supposed to walk Levada do Caniçal, but instead did Larano and did not regret it! Since that "mistake", I already visited it three times. When you reach Boca do Risco viewpoint, you will understand why I like Larano so much. Power of fresh wind, unreachable northern coastline, endless Atlantic, narrow curving path. Those kind of views will accompany you all way up to Porto da Cruz. The only one "disadvantage" is that Levada do Larano is not circular. That is why you have to plan your hike accordingly.
There are several options how to do Vereda do Larano and Boca do Risco trail.
Start from Machico and get back to Machico. The way until Porto da Cruz and back going to be around 21 km. Good option for those who leave a car in the starting point and have to get back there and for experienced hikers;
Start from Machico and finish in Porto da Cruz. Distance is about 12 km. Good option for those who prefer to explore Porto da Cruz, have a few shots of local rum, a beer or poncha there and after take a bus to Funchal (bus goes very rarely). Or better option – you start from Porto da Cruz and finish in Machico with golden sand beach and many buses to Funchal;
Start from Machico and hike until Boca do Risco and then back. The distance is about 6 km. Good option for those who prefer to see the place and the views. Then get back to civilization quickly.
Three Ways of Walking Vereda do Larano and Boca do Risco Trail
Depending on your preferences, you can choose among from these three options. I'll explain them more thoroughly now.
Machico – Machico
You can make it at least two ways. One way is simple. You just go to Porto da Cruz side and get back the same way. Seems easy. It is very difficult to lose direction with this option.
The second way is more complicated and require more physical effort from you. You go to Porto da Cruz. Then you cross one of the nearest mountain to cut the way to Machico. Elevation is not high (300-400m), but enough to respect it and make you breathless for some time.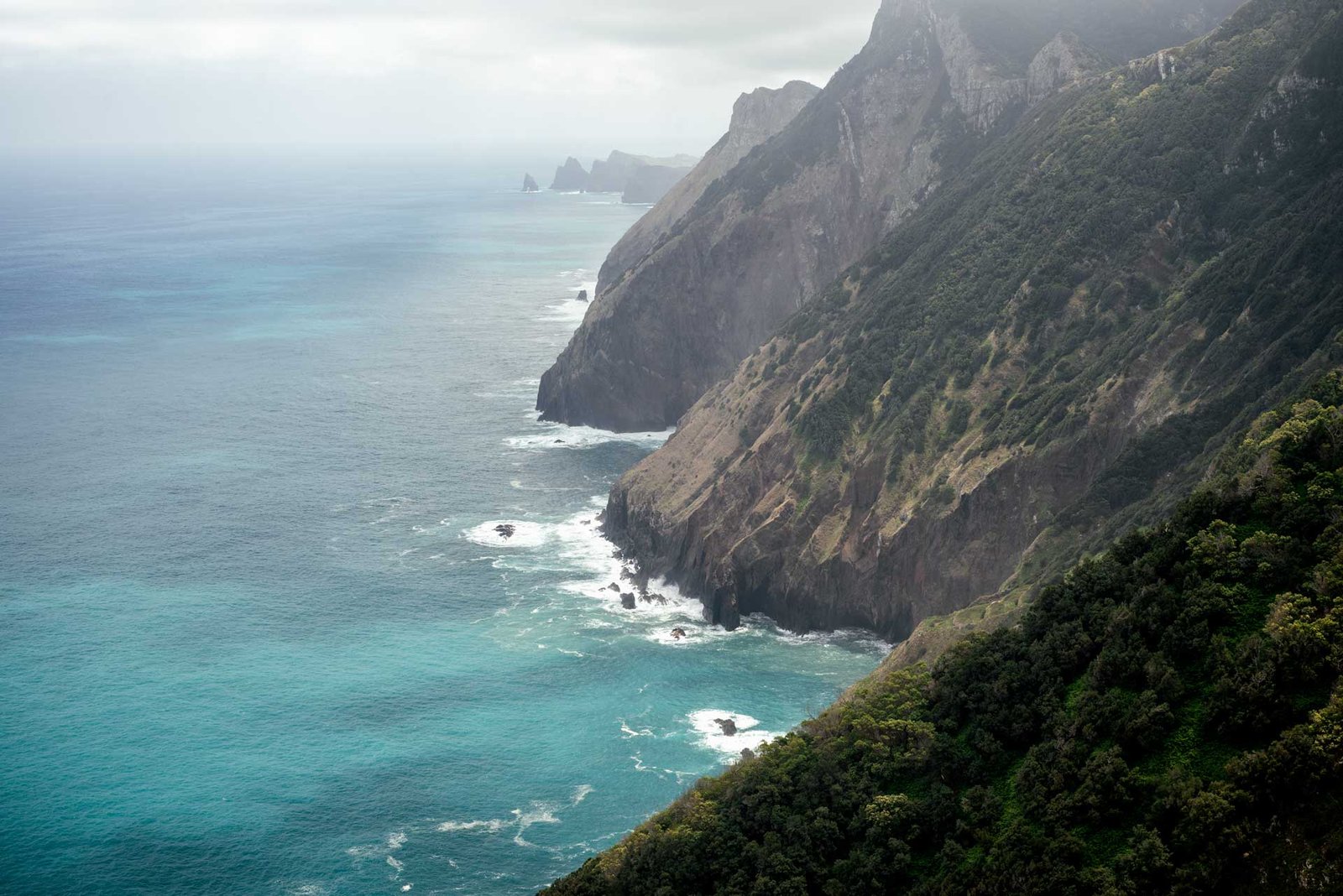 Advantages of "Machico – Machico" way:
– you will return to Machico different way;
– not only sightseeing but a good cardio as well;
– good combination between ocean/forest types of landscape;
– you can swim in ocean in Machico afterwards
Disadvantages of "Machico – Machico" way:
– The direction signs are not very obvious. I mean you can follow the sign to Machico but it was pointing to a wrong village near. As a result, you do extra kilometers;
– Hike up. Crossing a mounting is not the best option after 11 km of rough terrain hike for people never done it before. Think twice;
– You must be sure you have a good detailed paper map of the area and read it. Why a paper map? Phones can discharge or lose signals (GPS especially). A paper map is more reliable in my opinion.
– Carry some additional water with you. 20 km of walking may drain a lot of water from your body. There are no shops or water sources during this rote;
– It may take all day. I did this way in 7 hours without a hurry.
Machico – Porto da Cruz (or vice versa)
Keeping in mind that bus connection between Funchal and Machico is better than the connection between Porto da Cruz and Fucnhal I would recommend starting Larano trail from Porto da Cruz. There is no bus service in Porto da Cruz on weekends at all.
You will start your walk from Maiata beach just in the heart of Porto da Cruz. This is a great spot to start surfing / surfing classes (if you are experienced surfer consider going to Paul do Mar). All the way to Boca do Risco you are going by the Atlantic on the left. Then you turn to Machico sign. Walk until the old tunnel to Caniçal and get down to the city center/beach/bus station. You did it!
Machico – Boca do Risco – Machico
The easiest way of getting to know Larano trail. You will see a lot in 2-3 hours. Maybe some day you'll walk this beautiful levada until Porto da Cruz.
What to do in Machico.
The answer for me is to go to the sandy beach, dive into the Atlantic, and have a beer in front of the ocean afterward. Also, you can explore the city center, go to the Miradouro do Facho, try an interesting drink "Pé da Cabra" (literally "Goat's foot").
What to do in Porto da Cruz
Check the rum factory, try there some local sugar cane rum, ask for surfing classes, swim in public pools or near in Atlantic on Maiata beach, drink poncha.
Useful links:
Timetable from Funchal to Porto da Cruz (and back)
Timetable from Funchal to Machico (and back) Bus #156