You know that feeling when you start mastering some skill and getting better and better. I was at that point of piloting my drone when it happened. However, I would like to tell you a story about how I lost my expensive drone from the very beginning.
You never know how important something is until you almost lost it."

– Folk wisdom
---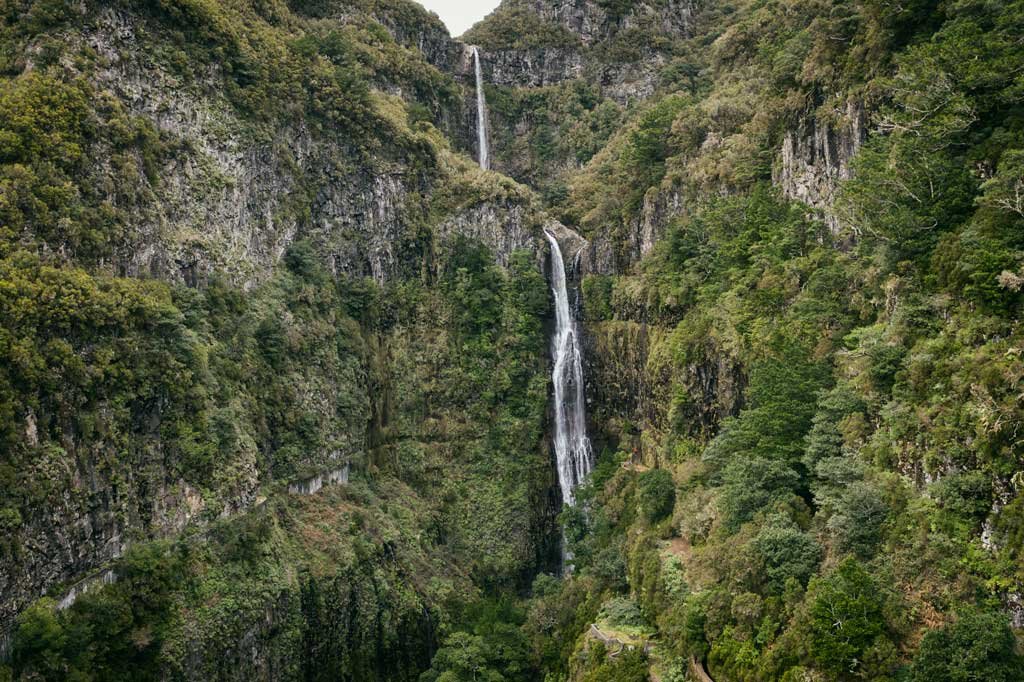 In Madeira, among other beautiful spots, one stands out – Risco Waterfall (map). It is on the famous 25 Fountains Levada but sits one level higher. You need to turn right after you see a sign with "Lagoa do Vento" and "Risco" Waterfall. This turn is just after 1 km from the parking towards the 25 Fountains. This hike takes around 30-40 min one way. Just stick to the path and soon you'll hear a strong sound of the waterfall.
The place is difficult for usual photography. You see the beauty around you: all these mountains, laurel forest, lush green plants, two huge waterfalls. Nevertheless, you cannot compose a decent photo. The camera sees only running water from the bottom point. You cannot step back to include more details around like Avatar mountains and sky, for example. Even with a super wide-angle lens. The reason is simple – there is no room for stepping back. The same problem with the upper point of the waterfall. You understand how to capture everything around you, but you cannot fly.
When I bought my drone, I decided to take advantage of it immediately. Quick preparation, batteries charged, the weather forecast is good. Let's go!
I came to the place almost at the right time. Not too close to the sunset, but not in the middle of the day. I'll explain to you why I think so. When you come to Risco at midday, you will face pale colors, washed away green, short shadows. It does not apply when it is cloudy, of course. I think rainy, cloudy weather gives this place a great mood. This place is not photogenic like Cabo Girao at sunrise, for example. The sun is hidden behind a mountain range. You'll have a very bright sky to compare with hidden in dark shadow fountains' details. Sunset is not good also. The sun drops behind the valley half an hour earlier than sunset time. Risco is in shadow, but the sky remains bright. So the perfect time to shoot Risco is 2-3 hours before sunset.
That day I was filming without clouds. I came there with three friends of mine. I decided to show them this beautiful place and shot a video with my new flying tool – Mavic 2 Pro. Barely found a place to launch the drone I hide in bushes for not to be present in the video.
My friends explored the waterfall and surroundings very quickly and decided to go higher. I explained to them the way and said that I'll catch them up in a minute. I made a few test flights away from the waterfall back and force. Then I found the best line to do reviling shot and did it toward waterfalls. It went the way I wanted! I've checked it on my phone's screen and noticed that I did not change my HD setting to 4K. Damn! Who shoots in HD when you have an option to film in 4K?
I changed the settings and flew back to the starting point. All I needed was to make the same line flying backwards and get the gimbal lower at the same time. I should have done it slowly as I did two times before. I wanted to catch my friends and somehow made it at full possible speed – 14 m/sec. What happened was little change in direction (left or right, don't know) because of the drone's remote control joystick. It made a small change in the trajectory of drone flight and led to this:
It happened so fast! I understood the consequences right away. My drone was lying on the slope of the almost vertical inaccessible mountain, 100 meters from the valley's bottom and 50 meters from the trail path. I decided to find the drone immediately until the daylight is gone. There is a good feature in DJI drone software. It marks all GPS and keeps all the flight logs. I found GPS of drone's fall and ran there as fast as I could.
The closest place to coordinates was on walking path three hundred meters away from the upper waterfall. I realized that 14 meters per second is very high speed. Below I saw nothing but inaccessible mountain slope full of dry trees. After half an hour full of tries to get closer to my drone I understood that even 1,5k drone does not cost enough to sacrifice my life. If I fell down there I could be on the valley's bottom in a few seconds.
I called my friends and explained what just have happened. The time was around sunset. We decided to get back to the parking place until it's dark. None of us had a torch. The darkness in tropics is coming straight after the sunset, so we did not have a lot of time. We managed to get to the parking with help of our mobile phone's flashlights.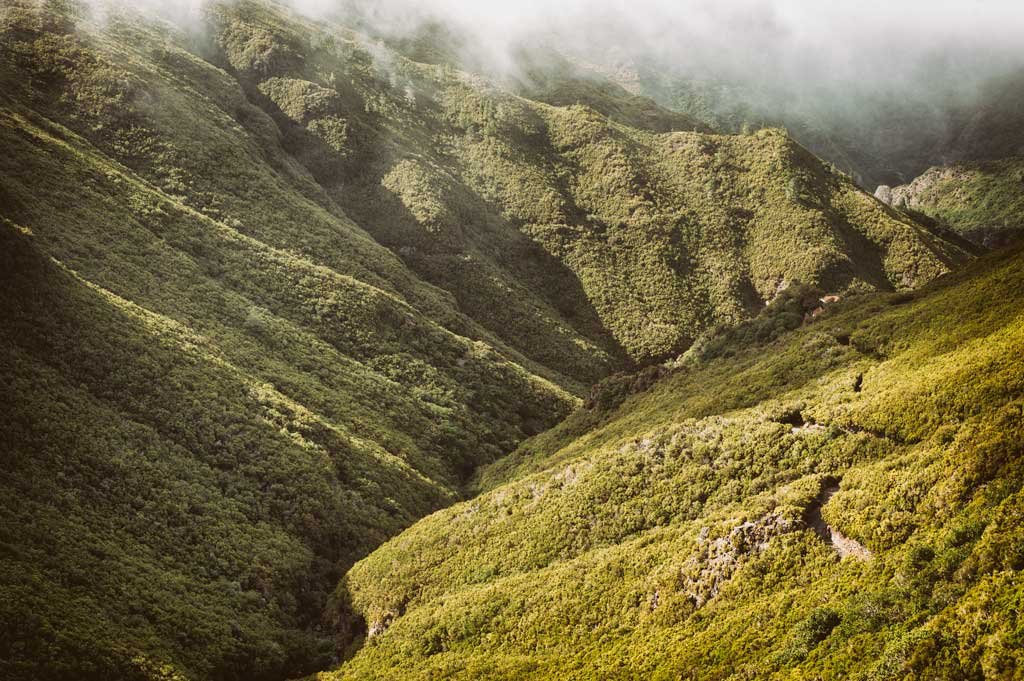 The bright idea of how to get my drone back came on the way to Funchal. Why not ask Portuguese mountain climbers to get my drone from there? We start calling them right away. One of them rejected our proposal immediately saying it is too dangerous for him, another said he could try to rescue the drone in a week or two. I imagined my drone lying there alone in the dark, under heavy winter rain and tried to find another solution.
I asked my friend and drone pilot to come to the fall's place again and inspect it more thoroughly. We came to the viewpoint down Risco waterfall trying to launch my friend's drone. But no luck. Heavy rain made our search impossible. We got completely wet and went back to Funchal with no result.
The only one option remained is one of our common Polish friend Magic. At that time, he has been finishing his PhD research at the University of Madeira. He's a surfer, biologist, slackliner and a mountain climber! My wife wrote him a short text with the issue. The answer came fast and clear – yes, I can do it, he said. He explained that his parents just brought him a 50m line for mountain climbing.
I barely slept that night. Checked GPS again, watched 50 times more last flight video to get the better idea where my drone is. When the alarm clock rang, I have already been driving to Magic's place to pick him up.
We got to the place with the first rays of the morning sun. It was raining all night but in the morning, the sky was blue. We found a rock steady alive tree and Magic tied the rope to it and to himself. I pointed him a probable direction and explained what kind of trees are near the drone's fall.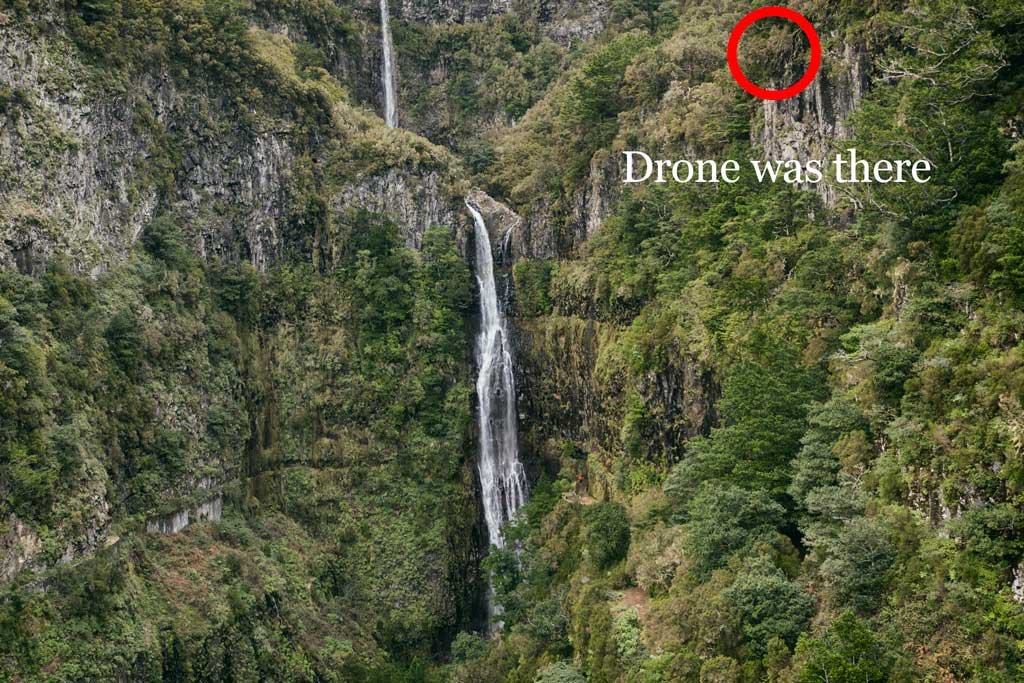 A few times the rope was stretched until the limit, then it became loose. I was desperately looking for any sign of Magic for some time. The rope stretched again and he appeared 20 minutes after. He had my drone in the bag! Later he explained that I am a very lucky pilot. The drone fall exactly on the edge of the mountain! The drone's blades blocked the further fall down. Moreover, If he had 45 m, instead of 50 m of rope he could not manage to reach the place.
The lesson learnt. I do not fly in a hurry. I check the settings before each flight. I pay attention to the trajectory when I fly backwards. I check the drone visually every time I fly.
If you need any kind of help regarding drone flights in Madeira, please ask in the comments below. I'll do my best to make your flights safe!
---